Happy New Year to my following friends!
If one of your resolutions this year is to get healthier and drop a few pounds, then you will want to read on... My husband, Tony, lost 25 lbs. and has kept them off for about four years. He maintains his weight by taking a Cinch drink each morning. It is simple, easy and taste great. But most importantly, it is safe, effective and good for you.
Join Shaklee and Try Cinch® for FREE*
(January – March 2012)
What?
Whenever you sponsor new people with a minimum $70 order, including any GOLD PAK, they will receive a Cinch Sampler Pack for free – a more than $100 SRP value!
Why?
It's weight loss season, and you'll want everyone to get a taste of our clinically tested Cinch Inch Loss Plan. This gives your new Member, Distributor or Gold Ambassador the chance to try the delicious Cinch products for free, and then decide if they're ready to commit to healthy transformation, with the Cinch Transformation Pack.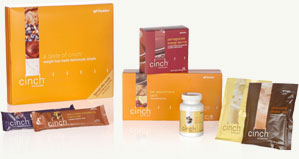 Cinch Sampler Pack includes:
An assorted Cinch Snack Bar Pack
A box of Pomegranate Energy Tea
2-Week Supply of Cinch 3-in-1 Boost
Single Sample of Peanut Butter Chocolate Chip and Blueberry Almond Crisp Meal-in-a-Bars
One Chocolate Shake Packet and One Vanilla Shake Packet
Check out this video to learn more:
Shaklee Videos: Tips for Success with Cinchsup®/sup