Watch these videos to learn more:
Click the above video


Join with a $100 Order, Get the Gift of Vivix® Free!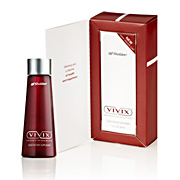 Do you know someone who is thinking of joining Shaklee? Now is the perfect time to reapproach them, introduce this valuable offer and one of Shaklee's most cutting-edge products!
T
hrough December 31, 2011 when a new Member, Distributor or GOLD Ambassador joins Shaklee and places an order of $100 Member Price or more, they will get a FREE 30-day supply of Vivix, Shaklee's all-natural, scientifically advanced liquid dietary supplement developed to Slow Aging at the Cellular Level™*.
That's a $100 retail value, FREE! It comes in a special, holiday-themed box—perfect for gift-giving!**

How to Help People Maximize This Promotion
Here's an example of how the people you sponsor can get the most out of this promotion:
1. Join with FREE Membership with Shaklee Vitalizer™
2. Add a Cinch Shake Canister (or any product that adds up to $100 MP)
3. Get a gift-packaged Vivix® FREE!
Take advantage of this offer on our website: www.pamtonymcdonald.myshaklee.com
http://pamtonymcdonald.myshaklee.com/us/en/welcome